Posts for tag: Teeth Whitening
By Jackson County Dental
September 01, 2018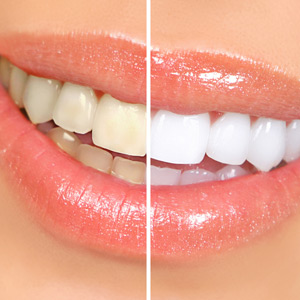 Transforming your smile doesn't necessarily require complex treatments like orthodontics, dental implants or porcelain veneers. Sometimes a little brightness can mean all the difference in the world.
Bleaching (or teeth whitening) is a proven method for dealing with tooth discoloration and staining. Nearly all whitening products, whether home or professional, contain the bleaching agent carbamide peroxide or its breakdown product hydrogen peroxide. These agents effectively diminish staining deep within a tooth (intrinsic) or on the enamel surface (extrinsic), although intrinsic staining will require a more invasive office procedure.
If you have extrinsic staining you have three basic options: dental office bleaching, a retail home kit or a kit purchased from a dentist. Again, you'll find the same basic bleaching agents in each of these versions. The difference will be the concentration: home kits contain about 10% agent by volume, while the office application will be a much higher range of 15% to 35% (which may also employ specialized lights or lasers to increase the bleaching effect). As a result, an office bleaching may take only a visit or two to achieve the desired brightness while a home kit about two or three weeks.
Whitening is a more economical route for smile enhancement of otherwise sound teeth than other measures. But there are other considerations you should weigh before undergoing a procedure. Whitening isn't a permanent fix — the brightness will diminish over time, optimally six months to a year in what dentists call the "fade rate." You can slow this process by avoiding or limiting foods and habits that cause staining.
If you have other dental work — crowns, bridgework or fillings — it may be difficult to achieve a tint level that matches these restorations, especially at home. And while whitening is relatively safe (as long as you're using your kit as directed), you may experience tooth sensitivity, gum irritation or other minor oral side effects.
Before you decide on whitening, visit us first for a complete dental examination. From there we can advise you on whether whitening is a good smile enhancement choice for you.
If you would like more information on teeth whitening, please contact us or schedule an appointment for a consultation. You can also learn more about this topic by reading the Dear Doctor magazine article "Teeth Whitening."
By JACKSON COUNTY DENTAL
December 21, 2017
Have coffee, smoking or simple aging changed the color of your teeth? You can say goodbye to dental stains with professional teeth
whitening from Seymour, IN dentists, Dr. Matthew Pierce and Dr. Lane Severe at Jackson County Dental. Your healthy teeth can brighten by up to eight shades in just one office visit or in the convenience and privacy or your own home. Learn more details about this amazing cosmetic service.
Those awful stains
Your dental health is good except for how dark and dingy your teeth look. How has this happened? Well, many factors contribute to changes in smile appearance:
Consumption of darkly pigmented and acidic foods and beverages (blueberries, coffee, sports drinks, and tomato sauce, to name a few)
Use of smokeless tobacco and cigarettes
The aging process
Taking prescription drugs such as some anti-hypertensives and antihistamines
Poor oral hygiene
In short, what we put into our mouths, dulls and yellows tooth enamel.

The solution

The American Academy of Cosmetic Dentistry says that professional teeth whitening is extremely popular because it dramatically changes smile appearance quickly, comfortably and economically. Also, you and many other adults and older teens qualify for it if, on examination, Dr. Pierce or Dr. Severe find:
Your teeth and gums are healthy
You have few restorations such as fillings or crowns
You are diligent about oral hygiene at home and get routine cleanings and exams at Jackson County Dental
If you do qualify, your dentist will offer you a choice of at-home teeth whitening in Seymour (using custom-made acrylic trays) or an in-office treatment.

What's the secret?

There really is no secret to professional teeth whitening. It's just good science. Whitening offered by your dentist uses concentrated hydrogen peroxide gel. Whether applied by the dental in the office or by you at home, the gel literally lifts staining organic material right out of tooth surfaces. While at-home processes are more gradual, both methods are amazingly effective and give patients a brighter, more youthful look.

Also, it's no secret that professional teeth whitening in Seymour is safe because your dentist knows you and your oral health. The gel is properly applied with no spillage onto sensitive gums or other soft oral tissues. Contrast this method with over the counter strips, rinses and trays which may produce marginal results or irritate the mouth.

Keeping them white

Professionally whitened smiles stay bright with daily flossing and brushing at home and semi-annual in-office cleanings and touch-ups (as needed). Also, you should avoid tobacco and limit staining beverages and foods. Expect your smile to be bright indefinitely!

A new smile

Say goodbye to dental stains with the best teeth whitening treatments in Seymour, IN. Contact the office team at Jackson County Dental today for a cosmetic dentistry consultation. Call (812) 522-8608.
By Jackson County Dental
January 13, 2016
Find out what's behind professional dentist-supervised whitening and if it's safe for your smile.
It's 2016! Now that the ball has dropped and the champagne has been finished it's time to think about the year ahead. For many this
means making some changes to improve their confidence. If you are looking for a way to quickly and easily boost your smile's appearance than it's time you turned to our Seymour cosmetic dentists Dr. Matthew Pierce and Dr. Jennifer Terhaar for teeth whitening.
Bleaching and professional whitening can be a safe and effective way to get a brighter smile when used correctly. While it can be more difficult to monitor issues effectively with at-home whitening treatments, your general dentists in Seymour can make sure that you get the whiter smile you want without worrying about gums, lips or other sensitive tissue getting damaged.
If you have teeth sensitivity you may be concerned about whether whitening is the right option for you. Research has found that high concentrations of bleach can increase tooth sensitivity, so if this occurs after your whitening session there are things you can do to reduce this problem (this issue should go away on its own after a couple days):
Temporarily eliminate hot or cold foods and drinks from your diet
Use an anti-sensitivity toothpaste that contains potassium nitrate
Talk to us about whether fluoride rinses could be a great option for remineralizing your teeth
If you use our at-home whitening system wear your trays for shorter periods of time
If you are dealing with any of these issues you may not be an ideal candidate for whitening:
Gum disease, cavities or worn teeth
If you are pregnant or currently breastfeeding
If you have dental restorations like bridges or crowns (artificial dental structures don't respond to bleaching)
Want to find out if teeth whitening is right for your smile? Then call Jackson County Dental today and let your dentists in Seymour give you a brand new look for the new year.