Posts for tag: dental injuries
By Jackson County Dental
January 18, 2021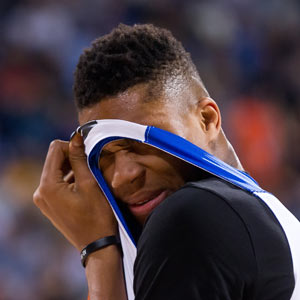 The NBA's reigning MVP Giannis Antetokounmpo may seem unstoppable, but he proved no match for a troubled tooth. Antetokounmpo, the self-proclaimed "Greek Freak," missed one of the final three 2020 regular season games for a dental issue that resulted in last-minute oral surgery. According to a Milwaukee Bucks spokesperson, the star underwent "a root-canal like procedure."
Root canal therapy, often simply called "a root canal," may be needed when there is an infection inside the tooth. When dental pulp becomes inflamed or infected, excruciating pain can result. Pulp is the soft tissue that fills the inside of the tooth. It is made up of nerves, blood vessels and connective tissue. During root canal treatment, the pulp is removed, the space inside the tooth is disinfected, it is filled with a special material, and then the hole is sealed up.
A root canal is nothing to fear. It relieves pain by getting rid of infection and is so effective that over 15 million of them are performed in the U.S. each year. This routine procedure generally requires only local anesthetic, and your mouth should be back to normal within a day or two after treatment. Antetokounmpo can attest to that, as he returned to play the next day.
However, delaying root canal treatment when you need it can have serious consequences. If left untreated, an infection inside the tooth continues to spread, and it may move into the gums and jaw and cause other problems in the body. So, how do you know if you may need a root canal? Here are some signs:
Lingering sensitivity to hot or cold temperatures. One sign of nerve damage inside your tooth is pain that is still there 30 seconds after eating or drinking something hot or cold.
Intense pain when biting down. You may feel pain deep within your tooth, or in your jaw, face or other teeth. The pain may be hard to pinpoint—and even if it improves at times, it usually comes back.
A chipped, cracked or discolored tooth. A chip or crack can allow bacteria to enter the tooth, and the tooth may darken if the tissue inside is damaged.
A pimple on the gum. A bump or pimple on the gum that doesn't go away or keeps coming back may signify that a nearby tooth is infected.
Tender, swollen gums. Swollen gums may indicate an infection inside the tooth or the need for periodontal treatment.
And sometimes there is no pain, but an infection may be discovered during a dental exam.
Tooth pain should never be ignored, so don't put off a dental visit when you have a toothache. In fact, if a bad toothache goes away, it could mean that the nerves inside the tooth have died, but the infection may still be raging. Also, be sure to keep up with your regular dental checkups. We may spot a small problem that can be addressed before it becomes a bigger problem that would require more extensive treatment.
Remember, for dental issues both large and small, we're on your team! If you would like more information about tooth pain, please contact us or schedule a consultation. To learn more, read the Dear Doctor magazine articles "Tooth Pain? Don't Wait!" and "Root Canal Treatment: What You Need to Know."
By Jackson County Dental
November 09, 2020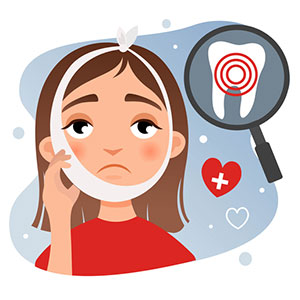 Parents love watching their kids grow up, from those early wobbly steps to their first solo car drive. Of course, you can expect a few mishaps along the way, most of which won't leave them worse for wear. But some risks are just too hazardous to ignore—including the potential for dental injuries.
Each year, one in ten children suffers a traumatic dental injury, many of which require extensive treatment. That's why during National Child Safety and Prevention Month in November, we're highlighting areas of risk for pediatric dental injuries, and how you can prevent them.
That risk changes depending on a child's stage of development. Teething infants, for example, relieve gum pressure by gnawing on things. Make sure, then, that you have items for teething made of cloth or soft plastic, and keep harder items that could damage their gums and emerging teeth out of reach.
Toddlers learning to walk encounter numerous injury opportunities, like a fall that lands them face first on a hard surface. You can reduce this risk by moving tables and other hard furniture out of your child's travel paths, covering sharp edges with padding, or simply isolating your child from home areas with hard furniture.
Pay attention also during bath time. Wet porcelain is notoriously slippery even for adults, and possibly more so for a child. A sudden slip in the bathtub could cause a mouth injury, so encourage your child not to stand until it's time to get out.
School-aged children face another set of perils to their mouth from outside play. At this stage, your best preventive measure is teaching them to observe play safety: Make sure they know not to aim balls, frisbees or other play items at others' heads, and to be on the lookout for the same. You'll also want them to be safety-minded playing on swings, monkey bars or other playground equipment.
If your older kids take an interest in sports, particularly the contact variety, you'll want to protect them with an athletic mouthguard (and encourage them to wear it during both practice and regular games). You can purchase a mouthguard at any retail or sporting goods store, but the most protective and comfortable to wear are custom-made by a dentist. Although more expensive, they'll still cost less than treatment for a traumatic dental injury.
The wonderful adventure of childhood does have its risks, and some are more serious than others. By following these prevention tips, you can help your child avoid a dental injury that could rob them of a healthy mouth.
If you would like more information about childhood dental concerns, please contact us or schedule a consultation. To learn more, read the Dear Doctor magazine articles "Dentistry and Oral Health for Children" and "An Introduction to Sports Injuries & Dentistry."